How to get "Free" Duracell Batteries from Office Depot
We may earn money or products from the companies mentioned in this post.
Paying for batteries sucks. Don't do it. Well, do it, but at least get your money back with Office Depot's 100% back rewards.
I do it twice a year. Once around springtime, and once around November to use for Christmas toys.
Here's how it works.
1. Become an Officedepot rewards member for free
2. Buy batteries during a 100% back sale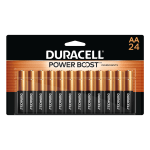 Officedepot offers a 100% back via rewards sale every few weeks or so on Duracell batteries. Sometimes they offer different items like K-cups and even masks.
During the 9/20-9/26 sale, the 16 count Duracell AAA and 24 count AA batteries are the deal. Promo code 87539032 gets you 20% off a regular price item. There's a limit of 2, and you'll need to make a $60 total purchase to get free shipping. Or you can get curbside pickup for free.
During the 8/23-29 sale, the 16 count Duracell AAA and 24 count AA batteries are the deal. There's a limit of 2, and you'll need to make a $60 total purchase to get free shipping. Or you can get curbside pickup for free.
During the 7/12-7/18 sale, the 12 count Duracell Optimum batteries AA or AAA are the deal to be had. Limit 2. Use coupon code 84601077 to get 20% off.
For the 6/21/20-6/28/20 sale, there's a limit of two packs of Duracell batteries per person. You can use promo code 64368192 for 20% off. This will reduce your out-of-pocket cost and also your amount of rewards back.
During the 5/24-5/30 sale, there is a limit of two packs of batteries and two boxes of K-cups per person.
During the 4/26/20-5/2/20, there is a limit of 2 packs per person. Sometimes this limit is four.
You can see all the weekly rewards deals here.
Sign up for their emails to know when these deals come around. I'll also try to keep this post updated when a 100% back deal is going. Purchase the batteries and/or k cups, and within several days, you get a reward amount equal to the amount paid minus tax.
Shipping is free with a $45+ purchase. My recent order was $44.98 and shipping was free. They've upped the shipping cost to free standard shipping with a $50 purchase $60 purchase, though some folks have reported getting free shipping with less. Or you can opt for free store pickup for any purchase.
3. Get 100% back in Office Depot rewards
After you receive your notification email of your 100% back in rewards (usually after your items ship), use your reward credit to buy something you would normally buy anyway. For me, it's coffee, printer ink, or toilet paper. Check the sales in the Office Depot weekly ad to get the most bang for your buck. For this article, I bought my batteries in April and spent my rewards on coffee in May.
If you're anxious about being able to spend your rewards, don't be. You have three months to use them, so mark it on your calendar. You'll also get email reminders. If it comes time to spend your rewards and you absolutely cannot find a good deal to spend your rewards on, you can always return the batteries. Of course you'd also forfeit your rewards. This has never happened to me: you have three months to use your rewards! No rush!
Rewards example
As an example, here's what my 4/30/20 purchase looked like. Don't forget to use a coupon if there's one out.
Check retailmenot for a current coupon code, or sign up for Office Depot emails here for them to email you a code. These codes usually only work on regular price items. Remember, you get back in rewards what you spend out of pocket, so even if you can't find a code, you'll still get 100% back in rewards.
Guess what else? I'm getting an additional 4% cash back on this purchase by going through Topcashback first.
But wait, there's more. Check your credit card offers for further savings! I'm a Chase Business Ink card holder and I sometimes have a 10% back on Office Depot offer–I used to get similar rewards from American Express, too. Plus I get 5% back at Office Depot and other office supply stores just by using this Chase Business card.
4. Spend your Office Depot rewards on a deal
One week later: For April's 100% rewards offer example, I earned $36 back in rewards and I was notified via email when the rewards were available one week after my purchase. I saw my Folgers coffee was on sale for $5.39 for 30.5 oz canisters, so I bought several of these with my reward. I signed up for a monthly subscription to take 10% off the price, and I'll cancel once I receive my order.
As you can see, I got a great deal on coffee–something I buy anyway–with my battery rewards, so this makes my batteries feel like they were free.
Make sure you sign into your account when you checkout, and make sure to check "Use my Office Depot rewards" in the payment area.
Rules for Office Depot rewards
Pay attention to limits on purchases that can earn 100% back in rewards. Sometimes there's a limit of four, sometimes two.
You can use available coupons, and your 100% back in rewards will be whatever you pay before tax.
If you pay for a purchase that's supposed to give rewards with rewards, you'll only get back what you didn't pay for with rewards. For instance, if I paid $10 of my $36 battery subtotal with rewards, I'd only earn back $26 of rewards. In other words, it'd behoove you not to pay with rewards for a purchase that's earning rewards.
Go through Topcashback.com to earn 4% cash back on your initial purchase. You can also use Topcashback for you second purchase when you spend the rewards, but they'll probably only give cashback on the amount the rewards don't cover. Every little bit counts!
Please follow and like us: